Välkommen till TCBS hemsida!
Kontakta oss på mail: janne@trioconbrio.se
Med vänlig hälsning,
Carina, Janne & Stig
TRIO CON BRIO STOCKHOLM bildades 2001 och fann sin nuvarande form 2008. TCBS består av Carina Cederwall – flöjt, Jan Holmgren – oboe och engelskt horn och Stig Andersson – piano och arrangemang.
Instrumentbesättningen är ovanlig för en trio och skapar en luftig klangbild med en speciell lyster.
TCBS turnerar Sverige runt, men har också gjort sex turnéer i USA:s Mellanvästern.
Repertoaren är bred – klassiskt blandas med populärt, folkmusikaliskt och sakralt – och finns presenterad på flera cd-inspelningar.
Music Without Borders – Our Way (CD nr 4)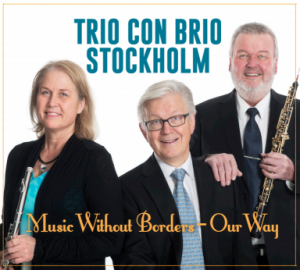 Gränslös musik – från Skandinaviens horisont
Vårt 4:e album präglas av Europas och Skandinaviens historiska relation till USA:s "Mellanvästern". Musik känner inga gränser. Det österrikiska underbarnet Erich Korngold, vars judiska familj av kända skäl tvingades lämna Europa för "Den nya världen", gjorde snart succé i Hollywood med musiken till filmen Captain Blood. Den polsk-judiske pianovirtuosen Ignaz Friedman fann sin fristad i Sidney, Australien. Quincy Jones som berikat den svenska jazzvärlden med sitt geni säger: "Sverige är som mitt andra hem."
Mer än en miljon svenskar flydde en gång nödtider för en ljusare framtid i Amerika. Leroy Andersons mor utvandrade som liten flicka från Stockholm till Amerika och träffade där sin blivande make Bror Anton Andersson från Skåne. Också TRIO CON BRIO STOCKHOLM    har funnit ett andra hem i Amerika, inte minst i Mellanvästerns svensk- och norskbygder.
Music knows no borders. The Austrian prodigy Erich Korngold, whose Jewish family had to leave Europe for "The New World" for well-known reasons, soon registered a great success in Hollywood with his music for the movie Captain Blood. The Polish-Jewish piano virtuoso Ignaz Friedman found refuge in Sydney, Australia. Quincy Jones whose genius enriched the Swedish jazz world said: "Sweden is like my second home."
More than one million Swedes once fled hard times in Sweden for a brighter future in America. As a young girl Leroy Anderson´s mother emigrated from Stockholm, Sweden to America. There she met her future husband Bror Anton Andersson from Skåne. Also TRIO CON BRIO STOCKHOLM has found a second home in America, especially in its Midwest. With this album we want to give our friends in both the "Old" and the "New" World MUSIC WITHOUT BORDERS – OUR WAY.
The Midnight Sun Never Sets (CD nr 3)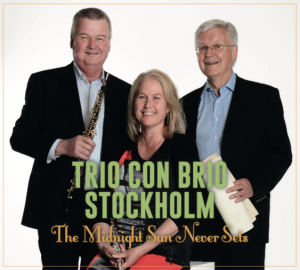 Vår CD nr 3 speglar turnén i USA sommaren 2014 med programrubriken "The Midnight Sun Never Sets – From Scandinavian Classics to ABBA".
In cd no 3 you will find parts of our repertoire in US Midwest the summer 2014 with the program title "The Midnight Sun Never Sets – From Scandinavian Classics to ABBA".
Trio con Brio – con amore (CD nr 2)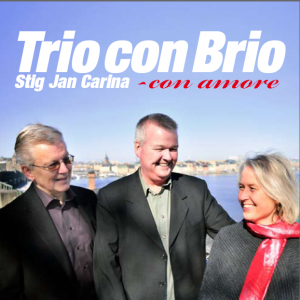 Vår CD nr 2 visar prov på olika delar av vår repertoar. Med kärlekshälsning, salut d'amour, con amore!
Our cd no 2 reflects different parts of our repertoire. With love, salut d'amour, con amore!
2018
Sverige
13/6 Vilunda k:a, Upplands Väsby 12:00
USA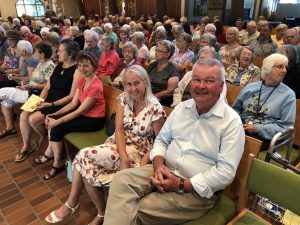 15/6 Trinity Lutheran Church Lindstrom, MN
16/6 Crosslake Lutheran Church Crosslake, MN
17/6 First Lutheran Church 09:00 Brainerd, MN
17/6 Salem Lutheran Church 19:00 Deerwood, MN
19/6 Zion Luteran Church 12:00 Grand Rapids, MN
19/6 Trinity Lutheran Church 19:00 Detroit Lakes, MN
20/6 Mt Carmel 19:00 Alexandria, MN
21/6 Terry Redlin Art Center 19:00 Watertown SD
22/6 Scandinavian Hjemkomst Festival Moorhead, MN
23/6 Scandinavian Hjemkomst Festival Moorhead, MN
24/6 Salem Lutheran Church Montevideo, MN
26/6 Immanuel Lutheran Church Almelund, MN
27/6 St Lukes Lutheran Church Bloomington, MN
28/6 The Grand New Ulm, MN
29/6 United Lutheran Church 19:00 Red Wing, MN
30/6 First Lutheran Church St Peter, MN
1/7 Gloria Dei 08:15 10:00 15:00 St Paul, MN
Sverige
3/8 Nysätra k:a, Västerbotten 19:00
4/8 Lövångers k:a, Västerbotten 18:00
5/8 Burträsk k:a, Västerbotten 19:00
12/8 Trollbäckens k:a 18:00
16/8 Bromma k:a 19:30
18/8 Flemingsbergs k:a, Huddinge 18:00
26/8 Skoklosters k:a, Bålsta 15:00
9/9 Riala k:a 18:00
2019
12/2 Aspnäskyrkan, Järfälla 13.00
2/8 Högalidskyrkan, Stockholm 20.00
4/8 Härkeberga kyrka, Enköping 19.00
7/8 Otterstads kyrka, Kållandsö 20.00
10/8 Västerplana kyrka, Kinnekulle 19.00
25/8 Länna kyrka, Rådmansö 18.00
20/10 Kungsholms kyrka, Stockholm 11.00
7/12 Aspnäskyrkan, Järfälla 17.00
2020
27/6 Härnevi församlingsgård, Enköping INSTÄLLT
2/7 Skederids kyrka, Finsta 18.00 INSTÄLLT
4-6/8 Grövelsjön och Idre INSTÄLLT
7/8 Tännäs kyrka 19.30 INSTÄLLT
12/8 Vilunda kyrka, U. Väsby 12.00
16/8 Flemingsbergs k:a, Huddinge 18.00 INSTÄLLT
20/8 Bromma kyrka 19.30
23/8 Mariefreds kyrka 20.00
18/10 Riala kyrka 18.00
2021
21/4 Vilunda kyrka, Upplands Väsby
5/6 Riala kyrka, Norrtälje 18.00
17/6 Kalmar kyrka, Bålsta 19.00
4/9 Härnevi kyrka, Enköping 19.00
29/9 Skederids kyrka, Finsta 19.00
16/10 Flemingsbergs kyrka 15.00
Exempel på konsertprogram som vi brukar framföra /Example concert programs
ETT AV VÅRA SOMMARPROGRAM/ONE OF OUR "SUMMER CONCERT" PROGRAMS:
Little March​​ (Lars-Erik Larsson)
Masquerade Waltz (Aram Chatjaturjan)
Two Dance Poems​ (Wilhelm Peterson-Berger)
Tango ​​ (Isaac Albéniz)
Asturias ("Legend")​ (Isaac Albéniz)
Leroy Favorites​ (Leroy Anderson)
from Garden Scene​ (Erich Korngold)
En Valsante​​ (Ignaz Friedman)
Heavenly Medley​ (arr. Stig Andersson)
Three Psalms​​ (arr. Stig Andersson)
Thank You for the Music​ (Björn Ulvaeus-Benny Andersson)
ETT AV VÅRA KLASSISKA PROGRAM/ONE OF OUR "CLASSICAL" CONCERT PROGRAMS:
I
ur Sonat i A-dur (C Franck)
– Allegretto ben moderato
– Allegretto poco mosso
ur Holbergsviten (E Grieg)
– Prælude
– Sarabande
– Air
ur Trio i d-moll (F Mendelssohn)
– Andante
– Scherzo
Pavane (G Fauré)
* * *
II
ur Suite Española (I Albéniz)
– Cádiz
– Asturias
Vocalise (S Rachmaninov)
Lullaby (G Gershwin)
Romanze (D Sjostakovitj)
Vals ur Maskeradsvit (A Chatjaturjan)

It all started in 2001 when Jan Holmgren got the idea to form a trio consisting of flute, oboe and piano. The music would be arranged for the trio and in a variety of genres.
TRIO CON BRIO STOCKHOLM (TCBS) consists of:
•  Carina Cederwall – flute
•  Jan Holmgren – oboe and English horn
•  Stig Andersson – piano and arrangements
They are all professional musicians.
Their repertoire includes classical music, well-known hymns as well as jazzy tunes and hits from musicals.
Composers on the repertoire: E. Grieg, C. Nielsen, E. von Koch, J. Sibelius, A. Piazzola, I. Albeniz, G. Gershwin and others …
The Trio gives concerts in churches, festivals and concert halls. TCBS has also toured in the U.S. six times mainly playing Swedish and Nordic music.
Next tour to US Midwest will be in June 2022!
We would love to hear from you, so feel free to mail us on: janne@trioconbrio.se